A Computer With A Transparent Wall
Preface
...the whole thing started years ago, about 78 years ago, when I was four years old... When I came to visit my relatives, I was given a large iron box of tools, lights, switches and similar kinds of schlam, after which I could not be seen or heard throughout my visit. To say the owner of that box, my uncle, with very direct hands...
At present, I have been working as a staircase master, pushing everything that contains microschems has been chasing for a long period of time, and since the first computer became systematically in the head, there have been thoughts of "something to do with it". Then I found out what it was. Modding...And from now on, there's no day to think about it... By the way, this is my first job...
I think we're gonna have enough inventions, move straight to the point. My fashion starts with a long thought of what I want to do.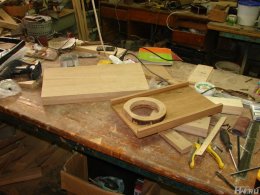 Drawings usually do not (and for no reason:) many thoughts come during work. Regrettably, at the time the fashion started, I didn't think I'd show my job somewhere on the Internet, so the pictures weren't much... Let's start...
Of course, everything began with a search for a system block, a damaged body of unknown origin, which was the foundation of a system block. I was thinking. Make the wooden hull And, as much as it would be embarrassing to show acquaintances, and since that's the first job I've decided to stop at a classic place. Jellezo bought everything new, that's a list of what was used.
CP Core 2 Duo E8400, 3000 MHz (9 x 333)
System charges Asus Maximus Formula
OCZ XTC SLI OCZ2N800SR2G * 2 St
Video ATI Radeon HD 3870 (RV670)
Sound Adapter Analog Devices AD1988B @ Intel 82801IB ICH9
C-Media CMI8738/C3DX Audio Device
ST3500320AS ATA Device (500 Gb, 7200 RPM, SATA II) * 2 St
Optical reservoir TSSTcorp CDDVDW SH-S202H ATA Device
CHIEFTEC CFT-500-A12S
Processing Wheeler Noctua NH1-U12P
ThermalTake Cyclo Blue Pattern A2450
I don't count many lights, neon lights, wires, etc. The tool was used by the ones that are in any stationary workshop... Unfortunately, I don't have a drill... Bye...
In fact, I started with the face panel, the bases and the roof of the system block. The most important thing is not to forget the golden rule seven times, then take it again and then cut it off, so we're gonna cut it off.